Doug Brown
Doug Brown has been a broadcaster, journalist and film-maker for 3 decades. He is an experienced camera operator, editor and writer of news and award winning documentaries. His short films have played on national cable networks and at a variety of film festivals. Currently the host and producer of go! Okanagan on Shaw TV, Doug covers stories and events from one end of the Valley to the other. Doug also has extensive theatre experience – playing the lead in Macbeth, Benedick in Much Ado About Nothing, Claudius in Hamlet and Mitch in Streetcar named Desire among many others.
Mike Stack
Mike is thrilled to be involved with the GoodWill Fest once again! He is an actor, teacher and director who makes his home in East Vancouver. Mike's most recent performances include The Wizard of Oz and The Cat in the Hat for Carousel Theatre, Sylvia at the Gateway Theatre, and Henry VI and Richard III at Bard on the Beach. Mike also works extensively with young people, leading Shakespeare workshops in schools, as Guest Director at Templeton Secondary in Vancouver and throughout the Lower Mainland Homelearning community. Mike is a graduate of Studio 58.
Brian Tate
Brian Tate directs Vancouver's 100-voice City Soul Choir and performs with his world music a cappella vocal trio 'TriVo'. An award-winning composer and popular choral clinician, Brian's compositions and arrangements reflect his love of world, roots, and gospel music. Brian also teaches singing and choir at Studio 58, Langara College's professional theatre school.
Jeff Topham
Jeff Topham is a handsome and gifted writer, photographer and documentary filmmaker based in Vancouver. He's recently written for nationally broadcasted TV series Border Security, Eat Street and The Liquidator. His travel writing and photography appears regularly in Westworld magazine, and his documentary Liberia 77 has won numerous awards worldwide. He's swapped stories with George Clooney and David Suzuki and has experienced stomach troubles in makeshift toilets from the Amazon to Timbuktu. (Yes, it's a real place.) In his spare time, he enjoys surfing, guitars, cheeseburgers and even the odd yoga class. His only regret is that he's never been to Saskatoon. www.jefftopham.com
Rose Cowles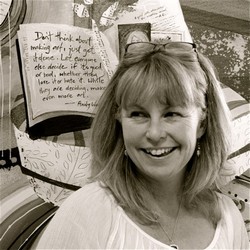 Rose Cowles is a Governor General Award nominated artist. She earned a three year diploma in Illustration from Sheridan College in 1990 and has won many awards for both book illustration and graphic design. Her picture books are printed and sold both nationally and internationally. She illustrates, paints large canvasses (on and off stage) and fights with her computer on a full time basis in Victoria, BC. Her training was in book illustration but has found that she can take her skills and apply it to not only book formatted art but to the stage, furniture, fabrics and a canvas of any size. In her all-purpose painting studio Rose has the space and freedom she needs to create larger pieces of art she has always wanted to. Getting messy on a big scale is one of her favorite things to do. In her spare time Rose tends to make a lot of sock monkeys for various reasons and age groups – just because it is fun. Who doesn't like a sock monkey?
Paul Budra
Paul Budra is a professor of English at Simon Fraser University with a specialization in Shakespeare. He has published four academic books and numerous articles. He has been awarded SFU Excellence in Teaching Award. He delivers the lecture series at Vancouver's Bard on the Beach Shakespeare festival and has worked with the directors and casts of such Bard productions as Othello and King John.
Allison Rennie
Allison Rennie is a poet who uses short form poems to examine the lived reality of the sacred. She incorporates material from a wide variety of sources including local and global news, lived experience, encounters with nature in her own rural back yard. Allison's varied educational background in cooking school, theatre, physical education, feminist theologies, and women's studies, strongly influences her art. An artisan, she loves sewing, growing food, and wild yeast bread baking. She has an MFA in Writing and Consciousness from California Institute of Integral Studies, and an applied Theatre Undergrad through U of T. She lives in Naramata, BC with her partner and a bunch of chickens. http://www.allisonrennie.ca
Karen Elgersma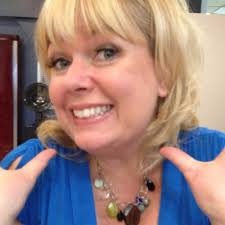 Karen Elgersma is the Host and Producer of Shaw Media's go! Island. Karen is passionate about South Vancouver Island and the incredible lifestyle this piece of paradise offers and she brings that passion to her viewers with every story she tells. After graduating with a Bachelor of Fine Arts honours degree in writing and journalism from UBC, Karen ran a successful youth magazine in Richmond as well as producing and co-hosting live radio. Before taking on the role as Producer and Host of go! Island, Karen spent the past 18 years as an award-winning Television reporter and Lifestyles Specialist for Shaw TV's The Daily. Today she loves the challenge of being both the host and producer of go! Island, a popular local magazine show. Producing a new 30 minute show every day, Karen leads her team of reporters and VJ's to create an engaging West Coast Magazine Television show that highlights the people and places of Vancouver Island. As the producer, Karen is in charge of putting together the story line-up, setting up daily interviews, hosting the show on location (live to tape), and scripting, editing and voicing the show in post-production. Karen is also a freelance voice-over actor, writer, director and film, TV and theatre actor. Karen can be seen hosting many events and fundraisers in the community and also volunteers for many non-profit groups. She is a former board member of Chemainus Theatre, and The Canadian College of Performing Arts. Currently, she is a board member of SAMC (School of Arts, Music and Culture) at Trinity Western University in Langley where her daughter is in second year studying Theatre and Voice. Karen lives in Victoria with her husband Del and their two children Charlotte (when Charlotte is home) and 10 year old son Oliver and dog Reggie. Inspiring people to live their best lives is what Karen believes she is born to do!
Jason Clift
Jay Clift is a professional actor working out of Vancouver. Born and raised in Summerland, Jay had the privilege of participating in the Good Will Festival during high school to which he apportions a degree of credit for his success as an actor. After his time in Summerland he trained to become an actor at Studio 58's professional theatre training program. He has since gone on to work with some of the biggest theatre companies in B.C. including the Belfry, Theatre SKAM, Electric Company and Solo Collective. Most recently, Jay performed the role of Peter to great critical acclaim in Hardline Productions' portrayal of Bug by Tracy Letts. This is Jay's second year teaching at Good Will, a time which he cherishes for all its fond memories and new experiences.
Julie McIsaac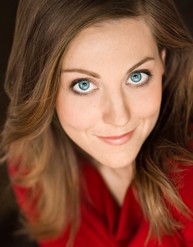 A graduate of Carleton University and the Canadian College of Performing Arts, Julie is an award-winning performer and theatre director currently based in Vancouver. She has appeared on stages throughout Western Canada, including productions at the Arts Club, Bard on the Beach, the Belfry Theatre, the Citadel Theatre, the Caravan Farm Theatre, Carousel Theatre, and the Chemainus Theatre Festival. This season, she has appeared as Sister James in Doubt (TheatreOne), Lea in Des fraises en janvier (Theatre la Seizi?me), and Isabella in Measure for Measure (Pacific Theatre). A founding member of the Honest Fishmongers, Julie is particularly passionate about performing Shakespeare, and her stage credits also include Ophelia in Hamlet (Jessie award nomination), Edgar in King Lear, Celia in As You Like It, Miranda in The Tempest and Lavinia in Titus Andronicus. She has twice been an apprentice director at Bard on the Beach, working on Richard II and the 2012 summer hit The Merry Wives of Windsor, and other directing credits include Someone Who'll Watch Over Me (Dancing Monkey Presents), Lend Me a Tenor (CCPA/Company C), Countryside Christmas (CTF),Ordinary Days and The Exquisite Hour (Relephant Theatre). An experienced artist-educator, Julie loves sharing her skills and enthusiasm with young performers, and she has worked previously with Learning Through the Arts, the Young Actors Project, Bard's Young Shakespeareans, and the Carousel Teen Shakespeare Program. Upcoming: a workshop production of her original play, The Out Vigil (Twenty Something Theatre, May/June 2014). Super excited to be back in Summerland for Shakesfest 2014!
Ashlie Atkinson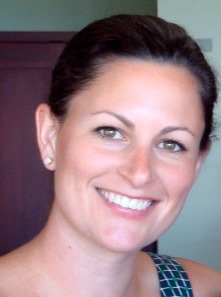 .Born and raised in Penticton B.C. Ashlie started her singing, dancing and acting career at the age of 8. After high school she attended ?The Canadian College of Performing Arts? and graduated with honors in all 3 song, dance, and acting disciplines. Ashlie then went to Vancouver where she played roles in ?The Sound of Music? as Leisel w/Gateway Theatre Co., ?Anne of Green Gables? as Diana, w/Theatre Under the Stars, and wrote a short play for the Vancouver Fringe Festival. From Vancouver Ashlie went to work for Norwegian Cruise lines as a main stage singer and after that she was one of the final contestants on CBC?s reality t.v.search ?Maria?? the search for the next Maria in ?The Sound of Music?. Her recent Penticton credits include the lead roles in both ?Chess? and ?Evita? with Soundstage Productions. She is currently coaching musical theatre students ages 5 and up at Even Dance Studio and loves living back in sunny Penticton!
David Kopp
David Kopp is a teacher and stand up comedian living in Kelowna where he organizes and performs at Last Laugh and Comedy Bloodsport. He has been a part of the Good Will Shakespeare Festival since the beginning and is looking forward to this year!
VJ Delos-Reyes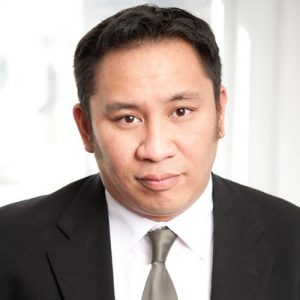 VJ is originally from Toronto, Ont. but has been mostly calling Vancouver his real home. He's also an accomplished high school improv coach, having his team compete on the National Stage in Ottawa Ont. for the Canadian Improv Games as well having the opportunity to perform shows for the 2010 Vancouver Olympics. He's an actor/writer for the Vancouver comedy group SKETCH. A current main stage performer with the Vancouver Theatresports League and has had the pleasure of working with other improv companies around the lower mainland, 'C' is for Comedy Events, Urban Improv, Table 23 and Seattle's Unexpected Productions. TV/Film Credits include, HBO's The 'L' Word, Intelligence, Hiccups, BCLC Commercial, AMC's The Killing and Percy Jackson and The Lightning Thief.
Bobby Bovenzi
Bobby has been a student of ethnic percussion and dance since 1994. He began studying the drum with Khalid Abdul N'Faly Saleem in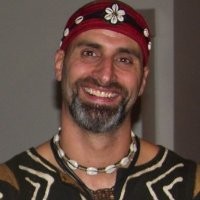 upstate New York. Khalid introduced me to the power of rhythm and it's ability to unite communities. His philosophies and thoughtful teaching changed my life, and allowed me to explore an artful way to promote understanding, acceptance and appreciation for the arts and their impact on creating a society in harmony. As part of his MS Ed. at Brockport, Bobby studied and teamed with Clyde Alafiju Morgan bringing music and dance into the classroom. Going to the schools with Clyde and seeing how the kids opened up to his passion and creative style gave me the confidence to begin a program for the school I was doing my internship work. The attendance rates and overall enthusiasm of the students notably increased. It was then I realized my Life work. Since his early university education, Bobby has shared his passion for drumming with thousands of people, from seniors to toddlers, corporate team building to gymnasiums packed with students and teachers. I believe everyone has the desire to be creative, whether it be dance, music or other forms of art, and through these mediums each life becomes a positive model for the next, free to express what's inside without fear or judgement.
Lana O'Brien
Okanagan born and raised, Lana moved back to Vernon in 1999 after graduating from the the University of Victoria and working in the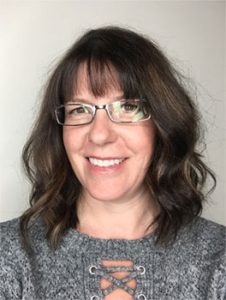 Kootenays for four years. Lana has been teaching theatre arts and choral music for 23 years and is both the artistic and technical director of the 27th Street Theatre Company, and conductor of the 80 voice Seaton Show Choir. Lana is involved in community theatre, and teaches acting and drama workshops for the BC Drama Teacher's Association (for whom she is currently the Vice President) when time permits. Primarily a producer and director, Lana is also a performer and continues to act whenever possible. Credits include SVEVA (Chorus, Powerhouse Theatre), ANNIE (Miss Hannigan, Powerhouse Theatre), RENTED CHRISTMAS (Anne, Armstrong Community Theatre), OLIVER! (Nancy, Invermere Community Theatre). Lana is also a member of Vancouver's City Soul Choir, which is a long commute twice a month from Vernon, but worth every moment!
Morten Byskov
I picked up my first SLR in '83 and never looked back. mfoto.ca saw the light of day in 2002 and was focused on ski resort and tourism
imagery. My photography business was based in Vernon, BC and included Commercial, Portrait, Wedding, Theatre/Stage, Sports and Lifestyle Photography. In November 2015 my wife and I set out on a journey to pursue travel photography. We have now visited 25 countries and have a goal of reaching 50 countries within the span of 50 months. You can follow our journey at www.5050travelog.com
Keyanna Burgher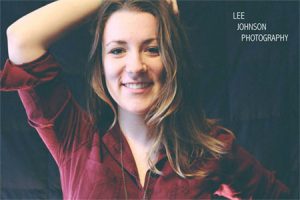 Originally from Moose Jaw, Saskatchewan, Keyanna Burgher moved to Vernon in the summer of 2015 following her graduation of the BFA Creative Writing program at UBC Vancouver. Primarily a writer, Keyanna focuses on short story and long form fiction, playwriting, and song writing. Her award winning one-act plays have been performed across Canada, and many of her short films have received national recognition. Keyanna also has several Best Actor awards and many regional and provincial vocal awards. You can find her most recent album "Blind" on iTunes; all songs are written and performed by Keyanna. Employed by the Vernon and District Performing Arts Centre, she enjoys writing, performing, and teaching.
Nitasha Rajoo
Nitasha Rajoo is an actor, director, and teacher. She holds a Master of Arts in the Advanced Teachings of Shakespeare from the University of
Warwick and The Royal Shakespeare Company in the UK. She has been teaching for over 17 years in both Canada and the UK. Nitasha's links in the UK have allowed her to work with the Barbican (Barbican Box ), Tamasha Theatre Company, The Old Vic Theatre, and the National Theatre on their Black British Plays Project. She has been praised for her artistic direction of 1984, Lord of the Flies, The Crucible, and numerous Shakespeare productions with casts of up to 50 students. Nitasha's love for Shakespeare takes her to to Limpopo, South Africa ( every summer for the last 3 years), with Warwick in Africa, where she trains English teachers using drama techniques, to make Shakespeare more accessible in the classroom. Nitasha teaches all over the Lower Mainland and is the lead instructor for the Creative Teens Program at The Arts Club in Vancouver. She is thrilled to be part of the Good Will Shakespeare Festival.
Catherine Haggquist
The recipient of the 2008 Women in Film and Television Vancouver's Special Jury Award, Catherine Lough Haggquist is also very proud to have been named as the Union of BC Performers' 2013 International Women's Day Honoree. In addition to her acting and the operating of Biz Books, Haggquist enjoys teaching actors career planning, business structure and audition technique at SchoolCreative Institute of the Arts.
Born in Vancouver, Catherine got her first big acting break as a stand-in for Holly Robinson on the television series, 21 Jump Street. Following appearances on television mainstays like The Commish, Highlander, The X-Files, and Dark Angel, Haggquist added to her acting credits with lead roles on two Canadian series – The Unprofessionals and Rockpoint PD. More recent appearances that number in her now 100 plus credits include Van Helsing, Zoo, Beyond, Supernatural, Stargate: SG1, Stargate: Universe, Fringe, Once Upon a Time, Bates Motel, Continuum, Garage Sale Mysteries, and Godzilla. While she has shared the screen with an impressive array of industry talent, Catherine's work off-screen has been especially influential in the Canadian industry. Dedicated to contributing to an industry and community she cares deeply about, Haggquist gave of her time by serving in multiple capacities – including Vice President – on the Executive Board of the Union of BC Performers. She also founded Biz Books in 1996 to provide a dedicated industry source for film, television, and theatre products and resources.
Alan Marriot
Alongside his voice over career Alan is very active as a visual and stage actor, particularly when it comes to improv comedy where he has appeared in and created many shows including , Theatresports, Hamlet Improvised, the Impro Musical, Impro lab – Alliances, Impropera, Suspect – the improvised murder mystery, South of the River – with Jeremy Hardy, Christmas Queen, Science!, Men in Suits – improv Mamet, Improv Twilight Zone, Showstopper – the 2010 Hong Kong tour, and a six year run of Friday Night Live. Alan currently teaches at School Creative in Vancouver where he has been department head for the Comedy Conservatory program for the past three years.
Alan has also written a book on improvisation and creative thinking, 'Genius Now' and is currently writing a new four handed musical with Sandra-Mae Luykx that will premiere next spring. After training at Studio 58 and Theatresports in Vancouver, Alan relocated to London, England to complete his training at LAMDA (the London Academy of Music and Dramatic Art). After completing LAMDA in 1986, Alan stayed in London and successfully pursued a career in voice overs and has been heard on countless animation series (Bob the Builder, My Little Pony, Dinosaur Train, Lego Ninjago, Lego Star Wars, and Lego Knights, Voltron, The Secret Show, and many more), commercials (MBNA, Smuckers, Denver Water, Honda, BC government, London Drugs, current voice of White Spot restaurants), movie trailers (Warner Bros – Scooby Doo, Nickelodeon), movies (X – sequel to Akira, Planet 51 – Glar, Back to Gaya, Globi, Asterix and the Mansions of the Gods – Cacofanix, to name a few). Alan spent a year and half at the Criterion Theatre in London's West End with The Reduced Shakespeare Company and recently performed in Mrs. Claus Kitchen, which he co-wrote with Bill Allman and Kevin O'Brien, and starred as 'Crumpet' in David Sedaris' 'Santaland Diaries' – with Sandra-Mae Luykx. TV credits include, The New Bundolo show, Wake up in the wild Room, Alexie Sayle, Jo Brand, The Happening, Now What – for Lennie Henry, The Bootleg Broadway Show, and more.
Mik Byskov
Mik Byskov, a grad of W.L Seaton Secondary and The University of Victoria, is an actor working out of Vancouver. Mik attended many Shakespeare Festivals in his high school days and is thrilled to be bringing the festival to his hometown in Vernon. Some recent film/TV credits include The 100, X-Files, Supernatural, The Void and the upcoming When We Rise.
Simone + Heather & Jens Goerner
(Social Dance workshop) Jens Goerner has been teaching Ballroom, Latin, Swing and Tango dance for over 20 years and has owned and operated dance studios in Germany and most currently City Dance in Vernon and Salmon Arm. His extensive knowledge of all dance styles and his fun teaching style is unparalleled in the Okanagan/Shuswap! Heather Stranks has been a figure skating coach and choreographer for over 25 years and a dance instructor for nearly 10. As co-owner of City Dance she teaches all styles of dance and loves every minute of it!
(Hip Hop/Street Dance Workshop) Simone Goerner was classically trained in Ballet for 12 years and also has an extensive background in Street Dance. She has been teaching for over 15 years and has had great success at competitions across BC with her competitive Hip Hop team including the title of top choreographer.
Chloe Richardson
Chloe's workshop is a unique blend of movement and play. Guiding each student/teacher through a class of movement inspired by ourselves and those around us to gain an energizing and present connection to our bodies. Each class is a variation from the beginning to the end. Chloe's process is a dynamic, contrasting, and collaborative achievement created in a safe and conscious environment designed to establish learning.
Chloe Richardson is an interdisciplinary artist based out of Vancouver. She studied musical theatre at the Randolph Academy for Performing Arts and classical singing at the Royal Conservatory of Music in Toronto and has twenty years of dance and movement training. Since calling Vancouver home, Chloe has continuously studied with several amazing acting teachers to inspire her craft. As a teacher, her approach is to get out of your head and into your body by honoring ones own truth and encouraging story-telling from a place of connection and vulnerability. Most recently Chloe toured with a professional contemporary dance company, performing and teaching in schools all across Western Canada, and after graduating from Studio 58, she has begun her journey in working in film and tv, teaching musical theatre, acting, and dance classes all over the lower mainland as well as collaborating with other diverse actors in creating their own work. Some favorite credits include her one woman show titled 'Someone Else', her role in the short film 'Semblance', Thersites in Troilus and Cressida (Studio 58), and Mr Lies in Angels In America (Studio 58).
Gabriel Newman
Gabriel Newman loves theatre, performing, and storytelling. He has a BFA in Theatre from the University of British Columbia and an MFA in
Interdisciplinary Performance from UBCO. He works as a sessional performance instructor at UBCO and Thompson Rivers University. His most recent stage credits include Pinocchio, An Unnecessary Farce, The Inspector General, and A House at the End of the Road. He has also been touring and performing his crazy food based story exchange performance project called Social Potluck. During the summer months and before Halloween he can be seen wandering the streets of Vernon with his Ghost Tours of Vernon.
Nicole Dreyer
Nicole Dreyer is a Makeup Artist and Special Makeup Effects Technician working in the Vancouver Film Industry. Nicole was born in Point
Edward, Ontario and moved to Vancouver in 2010. This was the first time Nicole was exposed to the potential reality of working in the film industry. After many years of passionately pursuing the arts outside of her dayjob as well as raising twins with her husband, she decided she had to get involved in film. In 2017, She found her way in and attended Vancouver Film School's 12 month intensive program- Make up Design for Film and Television lead by Stan Edmonds. After successfully graduating with honours, she begun working in the industry full time. Now, you can find Nicole working on union and independent projects doing any job she can get (including make up, special Make up effects, special fx, production design, props, and producing). Nicole thrives when she can make a real film effect without the use of CGI. "I have an eye for detail and a passion for the industry." – Nicole Dreyer
Amelia Sirianni
Originally from Vernon, BC, Amelia spent over a decade working as a professional actor in Toronto, ON. She received her formal
professional training at the Randolph College of Performing Arts and has since had the privilege of performing on stages across North America as well as in film and television. Favourite roles include Deedee Doodle in the National Tour "The Doodlebops Live!", Kelsi in "High School Musical" and Strawberry Shortcake in the North American Tour "Strawberry Shortcake and Friends". Amelia recently moved back to Vernon with her husband and young son where she's had the good fortune to be a part of the thriving arts community here through teaching youth drama at The Caetani Cultural Centre; working as Theatre BC's MainStage Festival's youth instructor; Musical Theatre adjudicator at the Kelowna Kiwanis Music Festival; and member of the Artistic Committee at the Powerhouse Theatre. She also runs an early childhood music and movement program, Itsy Bitsy Music Together.
Cara McDowell
Cara is the Senior Instructor of the Acting Program at Vancouver Film School and has been teaching there for 20 years.. As a young woman, acting and teaching grabbed Cara's heart and she has been doing just that for over 30 years. The inner workings of the imagination and the creative process have always fascinated her. She has a deep passion for inventing and developing programs that enrich, support and inspire actor/artists and is excited to a part of the festival! She received her BFA in performance from Ryerson University and continues to study the creative process to this day! Some Favourite ACTING EXPERIENCES include Sandy in Asymmetry (Reality Curve Productions), Constance in The Constant Wife (United Players). A BC Tour of A Promise is a Promise (Kaleidoscope Theatre). A self- written and performance of In Hiding Out for the (Uno Festival Victoria BC). Working with Theatre SKAM Victoria BC on several projects as well as a Fringe Tour of It's All the Rage (Intrepid Theatre).Some favorite DIRECTING experiences are Voices in the Sound(Bowen Island Summer Festival), Melville Boys(Mecca Entertainment), Oleanna (Studio 16), Ashes to Ashes(Equity co-op), Gasping for Breath(Body Echo Productions- Victoria Fringe Festival, Cowboy mouth(Ryerson University- Studio), Feathertop (Sears Drama Festival-Award for Directing)
Tahina Awan
With a BFA from SFU, Tahina Awan has trained as an actor for over twenty-five years in physical theatre, Commedia mask, classical and Pochinko clown and the body centered acting approach of Jerzy Grotowski. Tahina Awan has been studying, performing and teaching various types of mask theatre including Commedia D'ell Arte, half mask, full mask, neutral mask and the smallest mask of all – red nose clown. She has worked most intimately with David MacMurray Smith, a teacher of Richard Pochinko's Canadian Clowning method as well as the physical practices of Jacques Lecoq. In addition to teaching at VFS,Tahina's focus on the actor's practices of embodiment and presence have led to the creation and performance of her own work over the past five years. Her love of play and the magic of human connection trumps all.
Susan Bertoia
Susan is a Vancouver based professional theatre artist/devisor, actor, director and teacher. Her

professional directing, performance and teaching work explores poetic and pedestrian moments while her artistic leadership has been described as "engaging, encouraging and disarming". Susan's devised work is extensively movement-based (but not always!) and includes many solos and years back was involved in an all-woman circus. She has directed many diverse and multi plat-formed shows from children and youth engaged theatre to professional ensemble productions. Susan also works collaboratively with fellow theatre colleagues in devising engaging and invigorating new shows. As Artistic Director/Producer and Ensemble Performer of BellaLuna Productions and she has performed and devised almost all of their original shows. Accolades include: Jessie Richardson Award -Outstanding Performance and The Gordon Armstrong Theatre Artist Award. She has performed at/with the Arts Club Theatre, Western Canada Theatre, Firehall Theatre, Richmond Gateway, Pi Theatre and Boca Del Lupo. Training includes a BFA in Theatre Acting from UBC and advanced studies in commedia dell'arte and physical theatre from international institutions like Dell'Arte School; One Yellow Rabbit; Frantic Assembly (UK) and master classes with Jeremy James and a few other amazing artists. Susan is also an active member of the Famee Furlane of Vancouver with whom she produces cultural and entertaining events. And… a very proud mom to three fantastically fierce children.
Robin Genthon
Robin Genthon is a Manitoba Metis woman with a musical background, who has worked with children for over twenty years and has developed and facilitated various Children Empowerment Workshops. Her experiences as an Aboriginal Support Worker in the public school system and as a caregiver for Youth at Risk and Youth with Special Needs, coupled with her indigenous teachings, has inspired her to create "Drumming For The Earth" drumming and rhythm circle. Through drum and song, Robin uses the "Medicine Wheel" teachings in a fun and interactive musical workshop to address environmental and social issues that our children face every day. Research shows that drumming has a powerful and positive effect on mental, physical, emotional and spiritual development and well being. Robin is inspired to make learning fun while nurturing, enhancing and unlocking individual and collective human growth potential.
Eryn Kleyh
Eryn Kleyh grew up in Vernon, and was involved with the theatre department at Kalamalka Secondary School under the direction of Shon Thomas. After graduating, Eryn continued to develop as a performer in many different mediums. She spent years as a local Vernon radio personality, taught creative dance at the Inner World School, and most recently has been performing and touring as the front woman of Vernon based band 'She Hangs Brightly' as well as her solo project 'October Poppy'. Identifying as a shy extroverted individual, Eryn found ways to develop her performance alter ego and feel comfortable on stage in order to share her art and express herself.
John Lent
John Lent has been publishing poetry, fiction and non-fiction nationally and internationally for the past thirty years. He has published nine books of poetry and fiction and a book of conversations with Robert Kroetsch about the writing life, called Abundance. His second last novel, So It Won't Go Away, was short-listed for the BC Book Prizes in 2005, and Thistledown Press released a volume of Lent's poems called Cantilevered Songs in 2009 that was long-listed for the Re-Lit Award that year. A novel called The Path To Ardroe was released by Thistledown Press in the spring of 2012.
John Lent has read his from his work in France, England and the USA, and has given Canada Council Readings of his work across Canada. Lent lives in Vernon, BC, with his wife, the artist Jude Clarke, and plays in The Lent/Fraser/Wall Trio, a jazz and roots group that released a CD called Shadow Moon in 2005. He is currently, and happily, retired from Okanagan College, and is working on a new novel Kitchen Sessions, and has just released a CD of his own songs called Strange Ground. A new book of poems, A Matins Flywheel, will be released by Thistledown Press in May, 2019.
Eric Pells
Eric Pells was an Assistant Technical Director at the Vernon and District Performing Arts Centre in Vernon, BC. He has been working professionally in the theatre industry since 2007. Well versed in all aspects of technical theatre, he specializes in sound, particularly enjoying mixing large muscials and small singer-songwriter groups. Eric first became involved in the theatre industry by volunteering during high school with the Dance Stagecraft program and a local musical theatre and vocal jazz group. Once he decided to make technical theatre a full time career, he picked up several certifications including the LPEC and his Pyrotechnical License. Eric has been at the Performing Arts Centre in Vernon now for 6 years and in addition to helping manage the technical aspects of that theatre, he also assists with other theatres in the Okanagan, is a rigger for the local arenas, and works festivals during the summer.
Kayleigh Mace and Jax Dolman
Jax Dolman and Kayleigh Mace (BFA, BEd) have costumed several shows together, including "A Midsummer Night's Dream" (27th Street Theatre), "A Christmas Carol" (Powerhouse Theatre), and "Spamalot" (Big Apple Productions). Besides costume design, Jax has also performed onstage with multiple production companies in Vernon, including shows like "Seussical", "Romeo and Juliet", and "Chicago." Kayleigh received visual arts training from UBCO, and has been working in the Vernon school district, most recently at W.L. Seaton Secondary in the theatre department. When not costuming a show together, the pair produce and exhibit their collaborative paintings throughout the Okanagan Valley.