Drama Strand (8 workshops – you get them ALL!)
#1. Cameron Fraser Monroe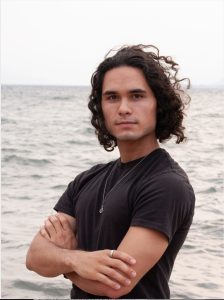 *KEYNOTE SPEAKER*
Cameron Fraser-Monroe (he/him) is a member of the Tla'amin First Nation. At three years old he started Ukrainian dancing in Vernon, BC leading him into a wide variety of music, theatre, and performance. He was privileged to receive several years of training and performance with World Champion Hoop Dancer Dallas Arcand and studied Grass Dance with Elder Mollie Bono.
Since graduating from the Royal Winnipeg Ballet School on the RWB Alumni Scholarship, he has performed with many companies including Red Sky Performance at Jacob's Pillow Festival, Dancers of Damelahamid at the Banff Centre and the International Cervantino Festival, the Royal Winnipeg Ballet at the National Arts Centre, and with the Atlantic Ballet Theatre of Canada.
As a choreographer Mr. Fraser-Monroe has received commissions from the National Ballet of Canada, the Royal Winnipeg Ballet, Ballet Kelowna, the Winnipeg Summer Dance Collective, the Royal Winnipeg Ballet Aspirants, Artist's Climate Collective, Transformation Cabaret at the Cultch, and both PULSE and Indigenous Day Live! on APTN. He continues to practice and present Hoop Dance.
Mr. Fraser-Monroe voiced the lead in Level Up for the Healthy Aboriginal Network with Kevin Loring. He has a principal role in the limited series Bones of Crows on CBC and APTN, and in the feature film of the same title which premiered at Toronto International Film Festival (TIFF) in 2022.
For the past five years Mr. Fraser-Monroe has served as Artistic Director of the Winnipeg Summer Dance Collective, making dance more accessible in downtown Winnipeg. In 2022, he joined Ballet Kelowna as their first Artist in Residence for their 20th season.
Intensive Strands
(Choose ONE of these and work on project that will be presented at the Gala Showcase on the last day of the festival)
Acting Intensive – Mike Stack
Brian Tate is a Victoria, B.C. c
Choral Music Intensive – Brian Tate
Brian Tate is a Victoria, B.C. choral director, clinician, and educator. An award-winning composer and arranger, dozens of his choral works are published and his music is performed worldwide. Brian is the music director of the Vancouver Island Chamber Choir as well as the Broad View Community Choir. He is also on the voice faculty of the Canadian College of the Performing Arts where he teaches private voice and vocal ensemble. Brian is known for his teaching skills and his ability to create a safe and fun environment for people to sing together
Vocal Ensemble Intensive
Anyone who loves to sing is welcome to join the Vocal Ensemble Intensive! We'll explore a variety of musical and vocal styles from a mix of genres and cultures, including world music, pop, and Broadway. Music reading skills useful but not essential. Come for a joyful and fun experience!
Technical Theatre Intensive – Jordan Davies
Vernon Performing Arts Centre
Work and learn side-by-side with Jordan and Co. in the gorgeous Vernon and District Performing Arts Centre. The students in this intensive will learn lighting, sound, and other tech theatre topics. The students will design and run the the tech for the Gala Showcase on Saturday afternoon.