Drama Strand (8 workshops – you get them ALL!)
#1. Cameron Fraser Monroe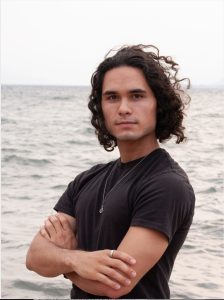 *KEYNOTE SPEAKER*
Cameron Fraser-Monroe (he/him) is a member of the Tla'amin First Nation. At three years old he started Ukrainian dancing in Vernon, BC leading him into a wide variety of music, theatre, and performance. He was privileged to receive several years of training and performance with World Champion Hoop Dancer Dallas Arcand and studied Grass Dance with Elder Mollie Bono.
Since graduating from the Royal Winnipeg Ballet School on the RWB Alumni Scholarship, he has performed with many companies including Red Sky Performance at Jacob's Pillow Festival, Dancers of Damelahamid at the Banff Centre and the International Cervantino Festival, the Royal Winnipeg Ballet at the National Arts Centre, and with the Atlantic Ballet Theatre of Canada.
As a choreographer Mr. Fraser-Monroe has received commissions from the National Ballet of Canada, the Royal Winnipeg Ballet, Ballet Kelowna, the Winnipeg Summer Dance Collective, the Royal Winnipeg Ballet Aspirants, Artist's Climate Collective, Transformation Cabaret at the Cultch, and both PULSE and Indigenous Day Live! on APTN. He continues to practice and present Hoop Dance.
Mr. Fraser-Monroe voiced the lead in Level Up for the Healthy Aboriginal Network with Kevin Loring. He has a principal role in the limited series Bones of Crows on CBC and APTN, and in the feature film of the same title which premiered at Toronto International Film Festival (TIFF) in 2022.
For the past five years Mr. Fraser-Monroe has served as Artistic Director of the Winnipeg Summer Dance Collective, making dance more accessible in downtown Winnipeg. In 2022, he joined Ballet Kelowna as their first Artist in Residence for their 20th season.
#2. Mariel Belanger Workshop: Embodied Story Practice
*KEYNOTE SPEAKER*
Through Embodied Story Practice Syilx and non Syilx students can learn to begin to understand what it means to live according to oralhistory through animal stories. Mariel believes Sqilxw relationality begins with learning Sqilxw ways of being and knowing, coupled with continued embodiments with the intention to trigger their time immemorial memories from their own histories resulting in reinvigorating their sense of responsibility to maintain the health of land and water to remain as healthy as the land and water intended. Wholistic health starts with action. The dimensions from which Embodied Story Practice grows is exponential and in all directions in as many different levels of engagement from baby to elder, offering different depths of knowledge about how the land functions and our role in that function.
Mariel Belanger is a Syilx interdisciplinary performance artist and doctoral student in Cultural Studies at Queen's University in Kingston Ontario. Following in her Syilx grandmothers footsteps, using ethnographic historical recordings to map the archives for family specific Syilx song and story, she encounters, captures and creates her own understanding of these texts, sound bites and visual recordings of the important knowledge her grandmother left behind re-constructing her story-world as methodology of contemporary cultural engagement, transferring community-driven, land-based artistic knowledge and practice into a trans-media research creation project that carries a story of caring for the land and maintaining matrilineal relationships.
#3. Danielle Krysa Workshop: Your Inner Critic Is A Big Jerk
* KEYNOTE SPEAKER*
All of us have an inner critic, some are just louder/ruder than others! In this workshop we'll do a bunch of exercises and activities (includingmaking collages!) in order to teach that little voice to BE QUIET. (all collage materials will be supplied)
Danielle has a BFA in Visual Arts, and a post-grad in graphic design. She is the writer behind the contemporary art site,
The Jealous Curator
(est.2009), and has curated art shows all over North America. Danielle is also an artist herself, and her narrative mixed media collages are held in private collections worldwide. She is the author of several art books: "Creative Block", "Collage", "Your Inner Critic Is A Big Jerk", "A Big Important Art Book – Now with Women", "A Big Important Artist – A Womanual", and in September of 2020 her first children's book, "How To Spot An Artist" hit shelves. Danielle has had the great pleasure of speaking at TEDx, PIXAR, Creative Mornings, and was interviewed in series of video segments on
oprah.com
about breaking through creative blocks and self-doubt. Find Danielle on Instagram at
@thejealouscurator
.
#4. City Dance Workshop: Heather and Jens (social dance)
Jens Goerner has been teaching Ballroom, Latin, Swing and Tango dance for over 20 years and has owned and operated dance studios in Germany and most currently City Dance in Vernon and Salmon Arm. His extensive knowledge of all dance styles and his fun teaching style is unparalleled in the Okanagan/Shuswap! Heather Stranks has been a figure skating coach and choreographer for over 25 years and a dance instructor for nearly 10. As co-owner of City Dance she teaches all styles of dance and loves every minute of it!
#5. Robyn Sheppard Workshop: Dare to be Silly/Dare to be Serious
Students will explore metaphorically the journey of taking off a mask, so they may put one on. The workshop will include foundation acting exercises and techniques which promote authenticity, vulnerability and play – three components essential for all artists, especially during these challenging times. In a safe and structured environment, students will work on character development focusing on the bravery required to step truthfully into the shoe of another. Hopefully leaving the session, students will have some concrete acting tips, as well as a tad more courage to "take off their masks." If "Vulnerability is the birth place of innovation, creativity and change," (Brene Brown) then it must be experientially explored and celebrated together. Come ready to move, vocalize, and open your mind and heart.
After working in Toronto as an actor and producer in her early years, Robyn ventured west landing in Nelson, BC where she began her thirty-two years of teaching high school English and drama. Recently retired – or graduated as she calls it – she now spends time mentoring new teachers, that is when she's not busy working on Tap In, a major musical production she is co-writing. Robyn is also in the process of setting up scene study workshops which she hopes to offer the Nelson community in the near future. In 2012, she, along with a troupe of talented actors from the high school and community, wrote and directed the feature film The Change Agents, a story about a dedicated youth environmental activist. Throughout Robyn's rich teaching career, she has directed numerous plays and musicals including Fiddler on The Roof, The Sound of Music, Our Town, and The Miracle Worker to name just a few. She is thrilled to be part of this exciting festival and looks forward to meeting artists and thespians from around the province.
#6. Collaborative Art – Michelle Loughery
Master Artist and Art Educator Michelle Loughery is a world renown Canadian Master Artist who has created hundreds of iconic murals and her studio work is sought after by global art collectors. In addition to her obvious talents at producing awe inspiring work, Loughery has developed a unique art education process that engages and includes community residents-young and old alike. The Wayfinder AR:T Project has won numerous awards and Loughery has created numerous connected community public mural art projects that inspired communities, engaged youth with life and employment skills, connected people and left monumental public art around the globe. www.michelleloughery.org
A large collaborative piece of community art will be created in a three day workshop. From design to completion in a creative way, all participants will engage with the processes of a collaborative large format art work. Each student will work individually to create individual art pieces that will then be part of a large format piece they will install together.
#7. Make-Up Workshop: Gordon Hamilton
Gordon Hamilton has been a theatre and art teacher at Brookswood Secondary for the last 25 years. He has served on the Association of BC Drama Educators Executive for that whole time as well. Gordon was the recipient of " Drama Teacher of the Year" in 2001 and 2015 by the ABCDE. In 2018 he was also recognized by ABCDE with the "Distinguished Service Award". Gordon has been a Festival organizer since 2006 for the BC Sears Drama Festival and now for the BC NTS Dramafest. Gordon is a self-taught make-up artist and has taken workshops in New York, Los Angeles, and Vancouver. Gordon shares that knowledge with his students and teaching colleagues by teaching classes in different make-up techniques and product knowledge.
#8. Eryn Kleyh
Eryn Kleyh is a local working artist who grew up in Coldstream, attending the Good Will Shakespeare Festival during its first couple of years. While now she fills the stage with her band and plays a guitar, she is fascinated with the characters we play and how we can use these creative outlets to process some of life's biggest experiences. Find her music online as 'October Poppy'.
Workshop: 'Your Performance Alter-Ego'
We all transform, even just a little, when we step on stage. Whether you become just a little big louder, bigger, more confident, or just have an easier time showing those big emotions, it is a part of you. Harnessing and channeling those larger than life parts of ourselves that lay dormant in our every day lives is a part of why performing is so cathartic. In the workshop we will explore finding parts of ourselves in someone else's story to make our performances genuine and connect to each other. We will explore through song, stories, and poems to empathically find ourselves in our peers.
Intensive Strands
(Choose ONE of these and work on project that will be presented at the Gala Showcase on the last day of the festival)
Susan Bertoia: Acting
*NOTE*. To be enrolled in the Acting Intensive, you must be recommended by your drama teacher. You WILL have homework to prepare BEFORE the festival.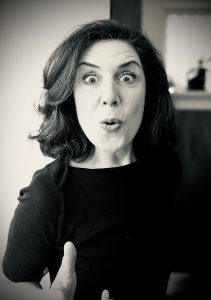 Susan Bertoia is a professional theatre artist, director, devisor, writer, performer and teacher. Her dynamic creative process and specialization in devised physical theatre make her a sought-out theatre artist throughout Canada. Recent projects include: Creative Director (Place des Arts 50th Anniversary celebrations); Director/Writer ("The (Un)Usual Suspect" at UBC Dorothy Somerset Studio); Director/Writer (original film "Project Element: Once Upon a Time in Smithers" commissioned by Vancouver International Children's Festival 2022); Writer/Director ("Juggle Me Not" commedia show with AXIS theatre) and Writer (commissioned site-specific adaptation of the Ugly Duckling, Place des Arts). She is Adjunct Professor at UBC teaching commedia and conducts numerous creative initiatives in schools through ArtStarts. Accolades: Awarded 'Excellence in Drama Education' through ABCDE; Outstanding Performance (Jessie Richardson's Award) and The Gordon Armstrong Theatre Artist Award. Training: BFA (Theatre Acting UBC); Ill Piccolo Teatro di Milan (Italy), Donato Sartori's International Mask School (Padova, Italy), Dell'Arte School of Physical Theatre (California, USA), One Yellow Rabbit (Calgary, AB), Jeremy James and UK's Frantic Assembly. www.susanbertoia.
THE WORKSHOP: MADNESS, MASKS AND MAYHEM
In the World of Shakespeare – 2023 Actor's Intensive with Susan Bertoia
Taking thematically linked scenes of "madness" from a variety of Shakespeare plays and poetry the acting intensive will devise a new work through the use of text, movement and mask.
The ensemble will examine through physical movement, motifs and gestures the notion of madness, where one's reality is questioned by the sane. We will take a contemporary approach to the classic text and devise a fantastical pageantry performance piece.
This could be… The fool sitting in front of his mirror putting on their make-up, not sure if they remember who they are, the scent of rosemary wafts in the room, "Rosemary for remembering" they laugh. From behind the mirror and around the space emerge people the fool has entertained, who he thinks, "I have led these souls into madness", or he stops and ponders, "Maybe it is I the fool that is mad".
Then… The actor, dressed in white flowing clothes, holds their character's 'mask' in her hand, head bent down staring at it. They walk slowly across the stage, back lit creating a silhouette. She is on the tightrope of life, walking into the abyss.
Come join us for the pageantry. Come the regal; the royal. The peasants; a pastoral. The have, the have-nots. Come toil away at Madness, Masks and Mayhem and create a feast for the soul!!
Participants engaged in this intensive must commit to the process, possess a curiosity for trying something new and have a desire to move. Text/scenes will be sent to participants prior to the intensive and select pieces should be memorized or at least these texts MUST have become familiar to the participants (i.e. Read them a few times before coming!). Participants should also be aware that we will be engaging in physically demanding work. NOTE: No participants will be excluded due to any accessibility needs.
Alan Marriott Workshop: Voice Acting
Guaranteed fun and maybe just a bit…scary! Alan is concentrating on voice acting and getting the most out of Shakespeare's verse. Treating the supernatural tragedy of MacBeth as a radio play, students learn about the importance and magic of iambic rhythms and pentameter, how to recognise and work with rhetoric, (similes, metaphors, alliteration, antithesis, and more!) and explore the hidden depth in the sound of Shakespeare's writing!
Alan Marriott has been teaching and performing for over thirty years both in Canada and Europe. He trained first with Vancouver Theatresports and Keith Jonhstone and then continued his training at LAMDA (The London Academy of Music and Dramatic Art) Voice and improvisation have been his combined passion and career. Creating and directing improv shows, Alan has appeared in many festivals including the Vancouver, Brighton and Leicester Comedy Festivals, and five times at the Edinburgh Festival ( with Hamlet Improvised, London Theatresports, the Impro Musical, Holsten Impro, and Will Shakespeare's Impro Musical). Animation series Alan can be heard in include Lego Ninjago, My Little Pony, Bob the Builder, and The Secret Show for BBC which won two BAFTA awards. Alan also voiced three series and voice directed six featurettes for BKN and Toon Disney. Oh, and Alan is also the voice of Bud the beaver for BBC's 'Octonauts'
Alan's book on improvisation, 'Genius Now,' is available online but he also has written/co- written five musicals of note: Da Doo Me (with David C Jones), Wonderboy! (with Philip Pellew of Showstoppers), Newer!Bigger!Better! , and Mrs.Claus' Kitchen (both with Bill Allman and Kevin O'Brien). Alan is currently collaborating with Sandra-Mae Luykx on a brand new four handed musical based on Sandra-Mae's hit album 'Happily Ever Now'
For a full list of Alan's credits, check out his IMDb profile at http://www.imdb.com/name/nm1166199/ www.alan-marriott.com
THE WORKSHOP – The Scottish Play as a LIVE RADIO DRAMA in 30 minutes!! Let the chaos begin!!!!
Choral Music Intensive – Brian Tate
Brian Tate is a Victoria, B.C. choral director, clinician, and educator. An award-winning composer and arranger, dozens of his choral works are published and his music is performed worldwide. Brian is the music director of the Vancouver Island Chamber Choir as well as the Broad View Community Choir. He is also on the voice faculty of the Canadian College of the Performing Arts where he teaches private voice and vocal ensemble. Brian is known for his teaching skills and his ability to create a safe and fun environment for people to sing together
Vocal Ensemble Intensive
Anyone who loves to sing is welcome to join the Vocal Ensemble Intensive! We'll explore a variety of musical and vocal styles from a mix of genres and cultures, including world music, pop, and Broadway. Music reading skills useful but not essential. Come for a joyful and fun experience!
Technical Theatre Intensive – Jordan and Jody
Work and learn side-by-side with Jordan and Jody in the gorgeous Vernon and District Performing Arts Centre. The students in this intensive will learn lighting, sound, and other tech theatre topics. The students will design and run the the tech for the Gala Showcase on Saturday afternoon.