Drama Strand: Catherine Haggquist
Workshop TBA

The recipient of the 2008 Women in Film and Television Vancouver's Special Jury Award, Catherine Lough Haggquist is also very proud to have been named as the Union of BC Performers' 2013 International Women's Day Honoree. In addition to her acting and the operating of Biz Books, Haggquist enjoys teaching actors career planning, business structure and audition technique at SchoolCreative Institute of the Arts.
Born in Vancouver, Catherine got her first big acting break as a stand-in for Holly Robinson on the television series, 21 Jump Street. Following appearances on television mainstays like The Commish, Highlander, The X-Files, and Dark Angel, Haggquist added to her acting credits with lead roles on two Canadian series – The Unprofessionals and Rockpoint PD. More recent appearances that number in her now 100 plus credits include Van Helsing, Zoo, Beyond, Supernatural, Stargate: SG1, Stargate: Universe, Fringe, Once Upon a Time, Bates Motel, Continuum, Garage Sale Mysteries, and Godzilla. While she has shared the screen with an impressive array of industry talent, Catherine's work off-screen has been especially influential in the Canadian industry. Dedicated to contributing to an industry and community she cares deeply about, Haggquist gave of her time by serving in multiple capacities – including Vice President – on the Executive Board of the Union of BC Performers. She also founded Biz Books in 1996 to provide a dedicated industry source for film, television, and theatre products and resources.
Drama strand: Alan Marriot
Workshop TBA

Alongside his voice over career Alan is very active as a visual and stage actor, particularly when it comes to improv comedy where he has appeared in and created many shows including , Theatresports, Hamlet Improvised, the Impro Musical, Impro lab – Alliances, Impropera, Suspect – the improvised murder mystery, South of the River – with Jeremy Hardy, Christmas Queen, Science!, Men in Suits – improv Mamet, Improv Twilight Zone, Showstopper – the 2010 Hong Kong tour, and a six year run of Friday Night Live. Alan currently teaches at School Creative in Vancouver where he has been department head for the Comedy Conservatory program for the past three years.
Alan has also written a book on improvisation and creative thinking, 'Genius Now' and is currently writing a new four handed musical with Sandra-Mae Luykx that will premiere next spring. After training at Studio 58 and Theatresports in Vancouver, Alan relocated to London, England to complete his training at LAMDA (the London Academy of Music and Dramatic Art). After completing LAMDA in 1986, Alan stayed in London and successfully pursued a career in voice overs and has been heard on countless animation series (Bob the Builder, My Little Pony, Dinosaur Train, Lego Ninjago, Lego Star Wars, and Lego Knights, Voltron, The Secret Show, and many more), commercials (MBNA, Smuckers, Denver Water, Honda, BC government, London Drugs, current voice of White Spot restaurants), movie trailers (Warner Bros – Scooby Doo, Nickelodeon), movies (X – sequel to Akira, Planet 51 – Glar, Back to Gaya, Globi, Asterix and the Mansions of the Gods – Cacofanix, to name a few). Alan spent a year and half at the Criterion Theatre in London's West End with The Reduced Shakespeare Company and recently performed in Mrs. Claus Kitchen, which he co-wrote with Bill Allman and Kevin O'Brien, and starred as 'Crumpet' in David Sedaris' 'Santaland Diaries' – with Sandra-Mae Luykx. TV credits include, The New Bundolo show, Wake up in the wild Room, Alexie Sayle, Jo Brand, The Happening, Now What – for Lennie Henry, The Bootleg Broadway Show, and more.
Drama strand: Gabriel Newman
Devised Theatre and Collaborative Creation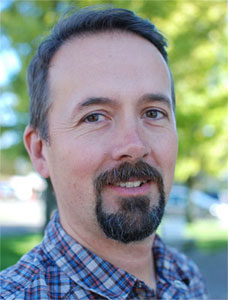 This workshop will focus on how to collectively create your own original pieces of theatre. Combining writing, improvisation, movement, and the unique skills each participant brings to the process, this workshop will take you through the process of creating your own performance pieces. Be prepared to participate and create!
Gabriel Newman loves theatre, performing, and storytelling. He has a BFA in Theatre from the University of British Columbia and an MFA in Interdisciplinary Performance from UBCO. He works as a sessional performance instructor at UBCO and Thompson Rivers University. His most recent stage credits include Pinocchio, An Unnecessary Farce, The Inspector General, and A House at the End of the Road. He has also been touring and performing his crazy food based story exchange performance project called Social Potluck. During the summer months and before Halloween he can be seen wandering the streets of Vernon with his Ghost Tours of Vernon.
Drama strand: Heather Stranks and Jens Goerner
Jens has been teaching Ballroom, Latin, Swing and Tango dance for over 20 years and has owned and operated dance studios in Germany and most currently City Dance in Vernon and Salmon Arm. His extensive knowledge of all dance styles and his fun teaching style is unparalleled in the Okanagan/Shuswap! Heather has been a figure skating coach and choreographer for over 25 years and a dance instructor for nearly 10. As co-owner of City Dance she teaches all styles of dance and loves every minute of it! Simone was classically trained in Ballet for 12 years and also has an extensive background in Street Dance. She has been teaching for over 15 years and has had great success at competitions across BC with her competitive Hip Hop team including the title of top choreographer.
Drama Strand: Amelia Sirianni
Finding Intention In The Text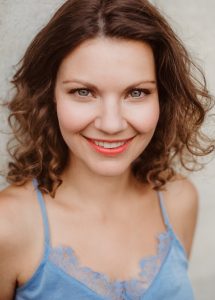 Through script analysis and creative play, students will discover the who, what, where, when, and why in an excerpt of one of the Bard's works. Because every character has a need and every actor needs to know what that is.
Originally from Vernon, BC, Amelia spent over a decade working as a professional actor in Toronto, ON. She received her formal professional training at the Randolph College of Performing Arts and has since had the privilege of performing on stages across North America as well as in film and television. Favourite roles include Deedee Doodle in the National Tour "The Doodlebops Live!", Kelsi in "High School Musical" and Strawberry Shortcake in the North American Tour "Strawberry Shortcake and Friends". Amelia recently moved back to Vernon with her husband and young son where she's had the good fortune to be a part of the thriving arts community here through teaching youth drama at The Caetani Cultural Centre; working as Theatre BC's MainStage Festival's youth instructor; Musical Theatre adjudicator at the Kelowna Kiwanis Music Festival; and member of the Artistic Committee at the Powerhouse Theatre. She also runs an early childhood music and movement program, Itsy Bitsy Music Together.
Makeup Intensive: Nicole Dreyer
Workshop TBA

Nicole Dreyer is a Makeup Artist and Special Makeup Effects Technician working in the Vancouver Film Industry. Nicole was born in Point Edward, Ontario and moved to Vancouver in 2010. This was the first time Nicole was exposed to the potential reality of working in the film industry. After many years of passionately pursuing the arts outside of her dayjob as well as raising twins with her husband, she decided she had to get involved in film. In 2017, She found her way in and attended Vancouver Film School's 12 month intensive program- Make up Design for Film and Television lead by Stan Edmonds. After successfully graduating with honours, she begun working in the industry full time. Now, you can find Nicole working on union and independent projects doing any job she can get (including make up, special Make up effects, special fx, production design, props, and producing). Nicole thrives when she can make a real film effect without the use of CGI. "I have an eye for detail and a passion for the industry." – Nicole Dreyer
Writing Intensive: John Lent
John Lent has been publishing poetry, fiction and non-fiction nationally and internationally for the past thirty years. He has published nine books of poetry and fiction and a book of conversations with Robert Kroetsch about the writing life, called Abundance. His second last novel, So It Won't Go Away, was short-listed for the BC Book Prizes in 2005, and Thistledown Press released a volume of Lent's poems called Cantilevered Songs in 2009 that was long-listed for the Re-Lit Award that year. A novel called The Path To Ardroe was released by Thistledown Press in the spring of 2012.
John Lent has read his from his work in France, England and the USA, and has given Canada Council Readings of his work across Canada. Lent lives in Vernon, BC, with his wife, the artist Jude Clarke, and plays in The Lent/Fraser/Wall Trio, a jazz and roots group that released a CD called Shadow Moon in 2005. He is currently, and happily, retired from Okanagan College, and is working on a new novel Kitchen Sessions, and has just released a CD of his own songs called Strange Ground. A new book of poems, A Matins Flywheel, will be released by Thistledown Press in May, 2019.
Technical Theatre Intensive: Eric Pells
Workshop descriptions
Day 1 – Let there be Light
This workshop will focus on a hands on look at different types of lighting fixtures, including LEDs and moving heads and their different applications. Some time will be spent discussing traditional and non-traditional lighting looks and concepts
Day 2 – Sounds Good
This workshop will focus on the basic different types of mics, where to place them and why, how to manage wireless frequencies, and what to do when it all goes wrong. Some time will also be spent showing different mixing methods on musicals (line by line vs automation)
Day 3 – Safety Third
This workshop will borrow heavily from ActSafe's Performing Arts Safety Course and talk about the basics of theatre safety. Everything from working at heights to workplace harassment.
About Eric:
Eric Pells is an Assistant Technical Director at the Vernon and District Performing Arts Centre in Vernon, BC. He has been working professionally in the theatre industry since 2007. Well versed in all aspects of technical theatre, he specializes in sound, particularly enjoying mixing large muscials and small singer-songwriter groups. Eric first became involved in the theatre industry by volunteering during high school with the Dance Stagecraft program and a local musical theatre and vocal jazz group. Once he decided to make technical theatre a full time career, he picked up several certifications including the LPEC and his Pyrotechnical License. Eric has been at the Performing Arts Centre in Vernon now for 6 years and in addition to helping manage the technical aspects of that theatre, he also assists with other theatres in the Okanagan, is a rigger for the local arenas, and works festivals during the summer.
Choral Intensive: Brian Tate
SongGroove: Rhythms of the World
Students will be learning a variety of rhythms and grooves with songs from around the world including songs from Africa, The Caribbean, Australia, BC First Nations, and gospel. There will be opportunities for soloists and extra percussion. No previous experience required – bring your voice, body, and spirit!
Brian Tate directs Vancouver's 100-voice City Soul Choir and performs with his world music a cappella vocal trio 'TriVo'. An award-winning composer and popular choral clinician, Brian's compositions and arrangements reflect his love of world, roots, and gospel music. Brian also teaches singing and choir at Studio 58, Langara College's professional theatre school.