Drama Strand: Alan Marriot
Workshop TBA

Alongside his voice over career Alan is very active as a visual and stage actor, particularly when it comes to improv comedy where he has appeared in and created many shows including , Theatresports, Hamlet Improvised, the Impro Musical, Impro lab – Alliances, Impropera, Suspect – the improvised murder mystery, South of the River – with Jeremy Hardy, Christmas Queen, Science!, Men in Suits – improv Mamet, Improv Twilight Zone, Showstopper – the 2010 Hong Kong tour, and a six year run of Friday Night Live. Alan currently teaches at School Creative in Vancouver where he has been department head for the Comedy Conservatory program for the past three years.
Alan has also written a book on improvisation and creative thinking, 'Genius Now' and is currently writing a new four handed musical with Sandra-Mae Luykx that will premiere next spring. After training at Studio 58 and Theatresports in Vancouver, Alan relocated to London, England to complete his training at LAMDA (the London Academy of Music and Dramatic Art). After completing LAMDA in 1986, Alan stayed in London and successfully pursued a career in voice overs and has been heard on countless animation series (Bob the Builder, My Little Pony, Dinosaur Train, Lego Ninjago, Lego Star Wars, and Lego Knights, Voltron, The Secret Show, and many more), commercials (MBNA, Smuckers, Denver Water, Honda, BC government, London Drugs, current voice of White Spot restaurants), movie trailers (Warner Bros – Scooby Doo, Nickelodeon), movies (X – sequel to Akira, Planet 51 – Glar, Back to Gaya, Globi, Asterix and the Mansions of the Gods – Cacofanix, to name a few). Alan spent a year and half at the Criterion Theatre in London's West End with The Reduced Shakespeare Company and recently performed in Mrs. Claus Kitchen, which he co-wrote with Bill Allman and Kevin O'Brien, and starred as 'Crumpet' in David Sedaris' 'Santaland Diaries' – with Sandra-Mae Luykx. TV credits include, The New Bundolo show, Wake up in the wild Room, Alexie Sayle, Jo Brand, The Happening, Now What – for Lennie Henry, The Bootleg Broadway Show, and more.
Drama Strand: Heather, Jens, and Simone – City Dance
(Social Dance workshop) Jens Goerner has been teaching Ballroom, Latin, Swing and Tango dance for over 20 years and has owned and operated dance studios in Germany and most currently City Dance in Vernon and Salmon Arm. His extensive knowledge of all dance styles and his fun teaching style is unparalleled in the Okanagan/Shuswap! Heather Stranks has been a figure skating coach and choreographer for over 25 years and a dance instructor for nearly 10. As co-owner of City Dance she teaches all styles of dance and loves every minute of it!
(Hip Hop/Street Dance Workshop) Simone Goerner was classically trained in Ballet for 12 years and also has an extensive background in Street Dance. She has been teaching for over 15 years and has had great success at competitions across BC with her competitive Hip Hop team including the title of top choreographer.
Drama Strand: Amelia Sirianni
Finding Intention In The Text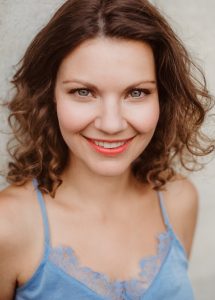 Through script analysis and creative play, students will discover the who, what, where, when, and why in an excerpt of one of the Bard's works. Because every character has a need and every actor needs to know what that is.
Originally from Vernon, BC, Amelia spent over a decade working as a professional actor in Toronto, ON. She received her formal professional training at the Randolph College of Performing Arts and has since had the privilege of performing on stages across North America as well as in film and television. Favourite roles include Deedee Doodle in the National Tour "The Doodlebops Live!", Kelsi in "High School Musical" and Strawberry Shortcake in the North American Tour "Strawberry Shortcake and Friends". Amelia recently moved back to Vernon with her husband and young son where she's had the good fortune to be a part of the thriving arts community here through teaching youth drama at The Caetani Cultural Centre; working as Theatre BC's MainStage Festival's youth instructor; Musical Theatre adjudicator at the Kelowna Kiwanis Music Festival; and member of the Artistic Committee at the Powerhouse Theatre. She also runs an early childhood music and movement program, Itsy Bitsy Music Together.
Drama Strand: Vancouver Film School
Cara McDowell:
Cara is the Senior Instructor of the Acting Program at Vancouver Film School and has been teaching there for 20 years.. As a young woman
, acting and teaching grabbed Cara's heart and she has been doing just that for over 30 years. The inner workings of the imagination and the creative process have always fascinated her. She has a deep passion for inventing and developing programs that enrich, support and inspire actor/artists and is excited to a part of the festival! She received her BFA in performance from Ryerson University and continues to study the creative process to this day! Some Favourite ACTING EXPERIENCES include Sandy in Asymmetry (Reality Curve Productions), Constance in The Constant Wife (United Players). A BC Tour of A Promise is a Promise (Kaleidoscope Theatre). A self- written and performance of In Hiding Out for the (Uno Festival Victoria BC). Working with Theatre SKAM Victoria BC on several projects as well as a Fringe Tour of It's All the Rage (Intrepid Theatre).Some favorite DIRECTING experiences are Voices in the Sound(Bowen Island Summer Festival), Melville Boys(Mecca Entertainment), Oleanna (Studio 16), Ashes to Ashes(Equity co-op), Gasping for Breath(Body Echo Productions- Victoria Fringe Festival, Cowboy mouth(Ryerson University- Studio), Feathertop (Sears Drama Festival-Award for Directing)
The Workshop Description: The Close Up:
The close up is about what is going on inside the mind of the character. The audience is stopped in their tracks and is brought inside the character's private internal world. Through short intense monologues the participants experience concentrating the size of their performance for the camera.
BIO for Tahina Awan: Movement and Voice Instructor, VFS
With a BFA from SFU, Tahina Awan has trained as an actor for over twenty-five years in physical theatre, Commedia mask, classical and Pochinko clown and the body centered acting approach of Jerzy Grotowski. Tahina Awan has been studying, performing and teaching various types of mask theatre including Commedia D'ell Arte, half mask, full mask, neutral mask and the smallest mask of all – red nose clown. She has worked most intimately with David MacMurray Smith, a teacher of Richard Pochinko's Canadian Clowning method as well as the physical practices of Jacques Lecoq. In addition to teaching at VFS,Tahina's focus on the actor's practices of embodiment and presence have led to the creation and performance of her own work over the past five years. Her love of play and the magic of human connection trumps all.
Workshop Description: Mask for the Actor: the Power of Play and Transformation
From Commedia D'ell Arte to modern day motion capture, mask has been a potent tool for the actor for centuries, if not millennia. In this workshop, we will play neutral and modern-day character masks and learn the basic techniques of physical transformation. A vehicle for embodiment and presence, these techniques will expand your range as an actor. Come play and experience the freedom of the mask.
Drama Strand: Susan Bertoia
Workshop: "To move or not to move… that is a really good question!"
Dive into the physical world of text and character. Our audience sees all, hears all and wants to feel all. As actors we have only our voice and body to deliver the text and tell the story. More often than not, actors use only their voice to tell this story, however; the body, with all it's moving parts, are part of the story telling journey. Engage in a physically charged workshop that focuses on character and movement for meaning. Students are encouraged to have a prepared or memorized text from a play, to get the most from this workshop. Wear comfortable clothes and shoes you can move in.
Susan is a Vancouver based professional theatre artist/devisor, actor, director and teacher. Her
professional directing, performance and teaching work explores poetic and pedestrian moments while her artistic leadership has been described as "engaging, encouraging and disarming". Susan's devised work is extensively movement-based (but not always!) and includes many solos and years back was involved in an all-woman circus. She has directed many diverse and multi plat-formed shows from children and youth engaged theatre to professional ensemble productions. Susan also works collaboratively with fellow theatre colleagues in devising engaging and invigorating new shows. As Artistic Director/Producer and Ensemble Performer of BellaLuna Productions and she has performed and devised almost all of their original shows. Accolades include: Jessie Richardson Award -Outstanding Performance and The Gordon Armstrong Theatre Artist Award. She has performed at/with the Arts Club Theatre, Western Canada Theatre, Firehall Theatre, Richmond Gateway, Pi Theatre and Boca Del Lupo. Training includes a BFA in Theatre Acting from UBC and advanced studies in commedia dell'arte and physical theatre from international institutions like Dell'Arte School; One Yellow Rabbit; Frantic Assembly (UK) and master classes with Jeremy James and a few other amazing artists. Susan is also an active member of the Famee Furlane of Vancouver with whom she produces cultural and entertaining events. And… a very proud mom to three fantastically fierce children.
Drama Strand: Robin Genthon
Workshop: Drumming for the Earth Drumming and Rhythm Circle
Robin Genthon is a Manitoba Metis woman with a musical background, who has worked with children for over twenty years and has developed and facilitated various Children Empowerment Workshops. Her experiences as an Aboriginal Support Worker in the public school system and as a caregiver for Youth at Risk and Youth with Special Needs, coupled with her indigenous teachings, has inspired her to create "Drumming For The Earth" drumming and rhythm circle. Through drum and song, Robin uses the "Medicine Wheel" teachings in a fun and interactive musical workshop to address environmental and social issues that our children face every day. Research shows that drumming has a powerful and positive effect on mental, physical, emotional and spiritual development and well being. Robin is inspired to make learning fun while nurturing, enhancing and unlocking individual and collective human growth potential.
Drama Strand: Eryn Kleyh
Workshop: Naming Your Alter-Ego
The art of performance comes in many different shapes and forms. Some of us turn it on at work, because there are situations that maybe make us a feel a little out of our element, some of us do it in classes or groups, and some of us do it when on stage. An alter-ego, or a stage persona, is something that has allowed many artists to explore parts of themselves in different ways. It releases you from the confines of what is expected of you in your social groups, or from family, or even by your self – think of David Bowie and Ziggy Stardust. In this workshop we will explore our alter-ego, give them a name, define them, and understand that it is just another part of you and your artist. Try something that maybe you thought you could never do in front of an audience!
Eryn Kleyh grew up in Vernon, and was involved with the theatre department at Kalamalka Secondary School under the direction of Shon Thomas. After graduating, Eryn continued to develop as a performer in many different mediums. She spent years as a local Vernon radio personality, taught creative dance at the Inner World School, and most recently has been performing and touring as the front woman of Vernon based band 'She Hangs Brightly' as well as her solo project 'October Poppy'. Identifying as a shy extroverted individual, Eryn found ways to develop her performance alter ego and feel comfortable on stage in order to share her art and express herself.
Acting Intensive: Gabriel Newman
Gabriel Newman loves theatre, performing, and storytelling. He has a BFA in Theatre from the University of British Columbia and an MFA in Interdisciplinary Performance from UBCO. He works as a sessional performance instructor at UBCO and Thompson Rivers University. His most recent stage credits include Pinocchio, An Unnecessary Farce, The Inspector General, and A House at the End of the Road. He has also been touring and performing his crazy food based story exchange performance project called Social Potluck. During the summer months and before Halloween he can be seen wandering the streets of Vernon with his Ghost Tours of Vernon.
STUDENTS WISHING TO BE IN THIS INTENSIVE, must be recommended by their theatre teacher (2 per school are permitted). These students should have an interest in pursuing post-secondary theatre studies and have attended at least one Good Will Shakespeare festival prior to this. Please register in the Drama Rotation and if you are successful in getting in to this Intensive, we will move you here.
Makeup Intensive: Nicole Dreyer
Nicole Dreyer is a Makeup Artist and Special Makeup Effects Technician working in the Vancouver Film Industry. Nicole was born in Point Edward, Ontario and moved to Vancouver in 2010. This was the first time Nicole was exposed to the potential reality of working in the film industry. After many years of passionately pursuing the arts outside of her dayjob as well as raising twins with her husband, she decided she had to get involved in film. In 2017, She found her way in and attended Vancouver Film School's 12 month intensive program- Make up Design for Film and Television lead by Stan Edmonds. After successfully graduating with honours, she begun working in the industry full time. Now, you can find Nicole working on union and independent projects doing any job she can get (including make up, special Make up effects, special fx, production design, props, and producing). Nicole thrives when she can make a real film effect without the use of CGI. "I have an eye for detail and a passion for the industry." – Nicole Dreyer
Writing Intensive: John Lent
John Lent has been publishing poetry, fiction and non-fiction nationally and internationally for the past thirty years. He has published nine books of poetry and fiction and a book of conversations with Robert Kroetsch about the writing life, called Abundance. His second last novel, So It Won't Go Away, was short-listed for the BC Book Prizes in 2005, and Thistledown Press released a volume of Lent's poems called Cantilevered Songs in 2009 that was long-listed for the Re-Lit Award that year. A novel called The Path To Ardroe was released by Thistledown Press in the spring of 2012.
John Lent has read his from his work in France, England and the USA, and has given Canada Council Readings of his work across Canada. Lent lives in Vernon, BC, with his wife, the artist Jude Clarke, and plays in The Lent/Fraser/Wall Trio, a jazz and roots group that released a CD called Shadow Moon in 2005. He is currently, and happily, retired from Okanagan College, and is working on a new novel Kitchen Sessions, and has just released a CD of his own songs called Strange Ground. A new book of poems, A Matins Flywheel, will be released by Thistledown Press in May, 2019.
Technical Theatre Intensive: Eric Pells
Workshop descriptions
Day 1 – Let there be Light
This workshop will focus on a hands on look at different types of lighting fixtures, including LEDs and moving heads and their different applications. Some time will be spent discussing traditional and non-traditional lighting looks and concepts
Day 2 – Sounds Good
This workshop will focus on the basic different types of mics, where to place them and why, how to manage wireless frequencies, and what to do when it all goes wrong. Some time will also be spent showing different mixing methods on musicals (line by line vs automation)
Day 3 – Safety Third
This workshop will borrow heavily from ActSafe's Performing Arts Safety Course and talk about the basics of theatre safety. Everything from working at heights to workplace harassment.
About Eric:
Eric Pells is an Assistant Technical Director at the Vernon and District Performing Arts Centre in Vernon, BC. He has been working professionally in the theatre industry since 2007. Well versed in all aspects of technical theatre, he specializes in sound, particularly enjoying mixing large muscials and small singer-songwriter groups. Eric first became involved in the theatre industry by volunteering during high school with the Dance Stagecraft program and a local musical theatre and vocal jazz group. Once he decided to make technical theatre a full time career, he picked up several certifications including the LPEC and his Pyrotechnical License. Eric has been at the Performing Arts Centre in Vernon now for 6 years and in addition to helping manage the technical aspects of that theatre, he also assists with other theatres in the Okanagan, is a rigger for the local arenas, and works festivals during the summer.
Choral Intensive: Brian Tate
Let Your Voice Be Heard!
Songs of Justice, Songs of Joy
Come and raise up your voice with Freedom songs, songs from the civil rights movement, and contemporary anthems for equality and social justice. We'll be learning songs in many different styles, from African to Gospel to Pop. No previous experience required – bring your voice, body, and spirit!
Brian Tate directs Vancouver's 100-voice City Soul Choir and sings with the world music a cappella vocal trio 'TriVo'. An award-winning composer and popular choral clinician, Brian's compositions and arrangements reflect his love of world, roots, and gospel music. Brian recently retired from teaching singing and choir for 22 years at Studio 58, Langara College's professional theatre school, and now lives in Victoria, BC.
Art Intensive – Costume Design: Kayleigh Mace and Jax Dolman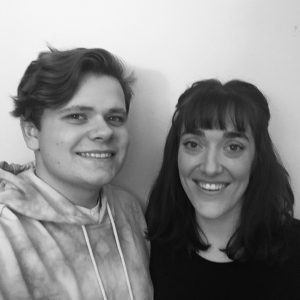 No sewing experience necessary:
The COSTUME INTENSIVE will allow students to delve head-first into designing and creating a one-of-a-kind look for the stage! We will explore the vital role that costumes play to help shape live theatre. Using thrift store finds and a fun selection of materials, students will handcraft a costume designed for a Shakespearean character of their choosing. We will deconstruct and re-imagine Shakespeare's characters; students will learn about costumes through the ages and how these past designs can inform and inspire contemporary looks. Day 1 will focus on research, aesthetics, and design theory, with an emphasis on the creative process and how collaboration and discussion can generate interesting designs. Once they have developed a strong sense of the world their character lives in, students will begin to sketch and plan out their costume. Day 2 and 3 will have students construct, document, and photograph their looks. No sewing knowledge is required – just a keen attitude and a desire to make beautiful works of wearable art!
Jax Dolman and Kayleigh Mace (BFA, BEd) have costumed several shows together, including "A Midsummer Night's Dream" (27th Street Theatre), "A Christmas Carol" (Powerhouse Theatre), and "Spamalot" (Big Apple Productions). Besides costume design, Jax has also performed onstage with multiple production companies in Vernon, including shows like "Seussical", "Romeo and Juliet", and "Chicago." Kayleigh received visual arts training from UBCO, and has been working in the Vernon school district, most recently at W.L. Seaton Secondary in the theatre department. When not costuming a show together, the pair produce and exhibit their collaborative paintings throughout the Okanagan Valley.